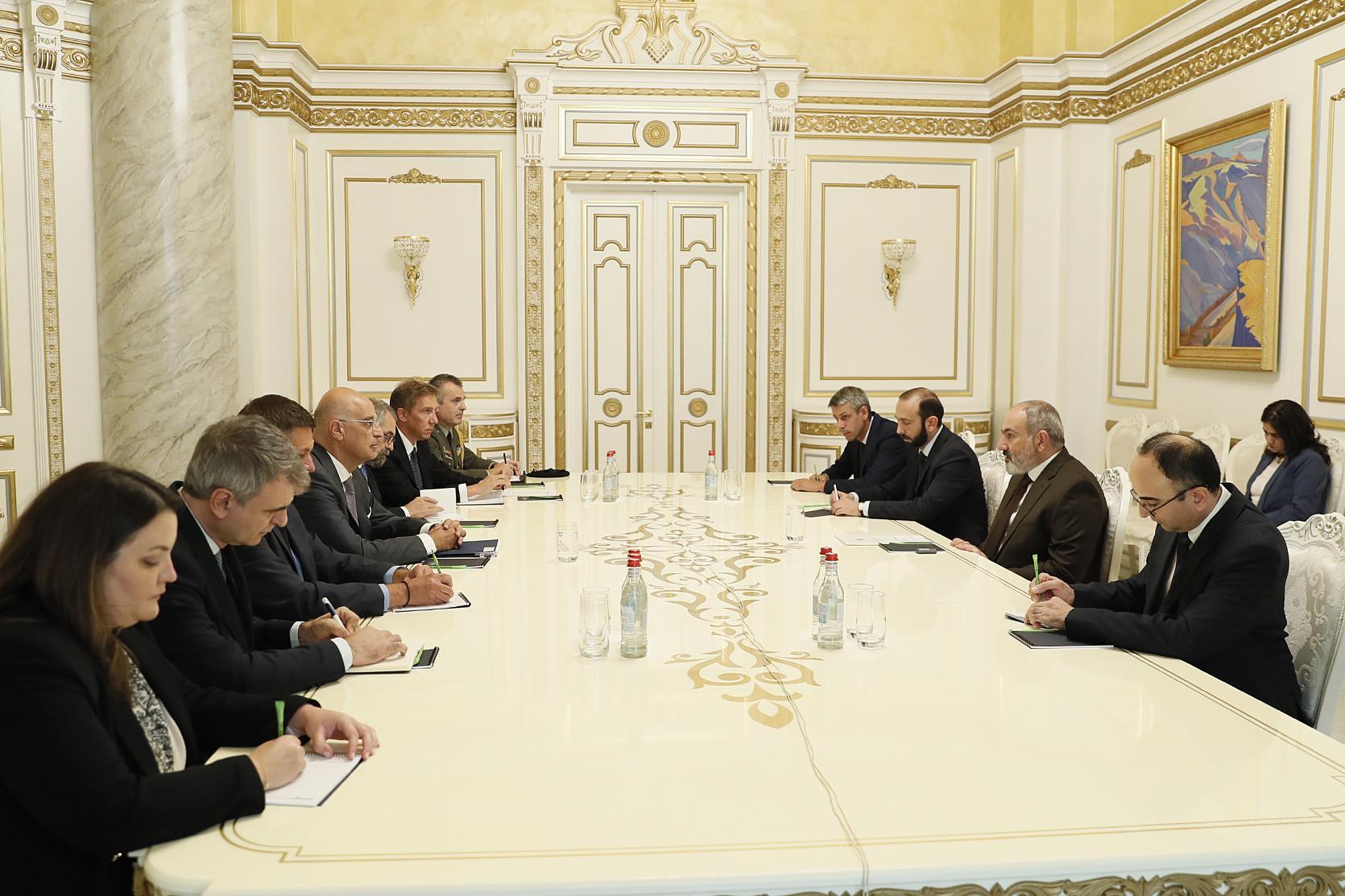 Prime Minister Nikol Pashinyan received the delegation led by Greek Foreign Minister Nikos Dendias.
According to the official website of the Prime Minister, the Prime Minister welcomed the visit of Mr. Dendias to Yerevan and noted the importance of the dynamic development of Armenian-Greek relations. Nikol Pashinyan expressed confidence that this visit will give a new impetus to bilateral cooperation. At the same time, the head of the RA government emphasized the importance of the tripartite meeting of the foreign ministers of Armenia, Greece and Cyprus held in New York in terms of jointly facing challenges, ensuring stability and peace in the region, as well as expanding relations in different directions. The Prime Minister expressed hope that high-level mutual visits will be intensive.
Nikos Dendias noted that Greece also attaches great importance to the consistent development of multilateral relations with Armenia. He noted that the tripartite meeting held in New York was effective and the discussions will continue in that format. According to the Minister of Foreign Affairs of Greece, the Greek and Armenian peoples are connected by age-old friendship and they are committed to raising the bilateral cooperation to a new level.
The interlocutors exchanged ideas on the processes taking place in the South Caucasus. Prime Minister Pashinyan detailed the consequences of Azerbaijan's aggression towards the sovereign territory of Armenia.
The head of the government emphasized the importance of an adequate reaction of the international community in terms of withdrawing the Azerbaijani units from the RA territory and preventing new aggression. The Prime Minister also referred to Armenia's positions regarding the unblocking of transport infrastructures in the region, demarcation between Armenia and Azerbaijan.
Nikos Dendias added that Greece will make every effort to contribute to overcoming the challenges faced by democratic and fraternal Armenia.
If you find a bug, you can send it to us by selecting the bug and pressing CTRL+Enter