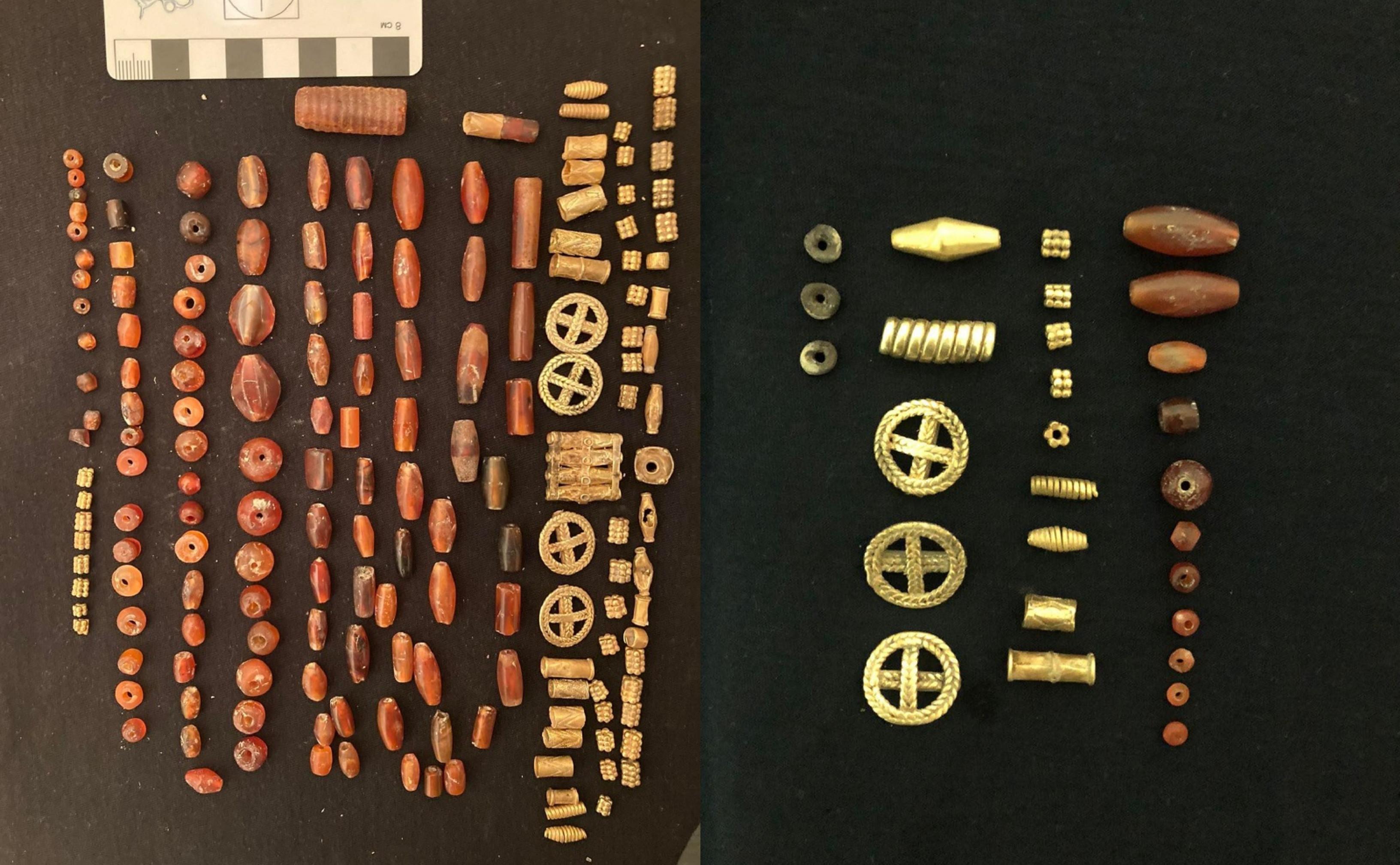 The Ministry of the Ministry of Education and Culture informs that the expedition of the "Historical Cultural Monuments and Historical Environment Protection" service of the SNOC (head of the expedition: Dr., Professor Ashot Piliposyan) in the territory of the "Metsamor" ancient site in 2022. discovered exceptional finds during the excavation season that started in September.
"Excavations in the cemetery were concentrated in tomb N 23 located southeast of tomb N 22. It (2.50 x 2.10 m) is an intact tomb that has come down to us, covered with armor made of medium-sized stones. Under it, the burial chamber (2.50 x 2.10 m) lined with medium and large stones was opened, with an east-west orientation. In the tomb, crouched on a wooden bier, two individuals were placed one on top of the other in the pelvis area, one with the upper skeleton on the left side and the lower one on the right side. At the same level as the individuals, 10 complete shells were opened, some of which were placed under the hearse. Another 8 complete vessels were discovered in the lower layer, of which a small bluish-green glazed bottle with 2 through-holes preserved in the upper part of the body is exceptional. The neck and chest regions of individuals were decorated with various beads made of gold, sardion, amber, tin (cylindrical, spherical, filigree, beaded, spiral), dividers, pendants. One of the individuals had bronze bracelets on the forearm bones, and tin buckles on the abdomen.
A ring made of thin tin wire was present in the hand part of skeleton N 2. A preliminary study shows that the individuals are male and female. The preliminary study of the archaeological material in the tomb allows us to date the tomb to BC. In the last quarter of the 2nd millennium.
The Armenian-Polish expedition is carrying out the excavations in the territory of "Metsamor" ancient site (the co-leader of the Polish expedition is the director of the Institute of Archeology of the University of Warsaw, doctor, professor Krzysztof Jakubiak). The archaeological works were carried out in two locations: in the city district located east of the citadel and in the area of ​​the cemetery," the ministry's press release stated.
If you find a bug, you can send it to us by selecting the bug and pressing CTRL+Enter