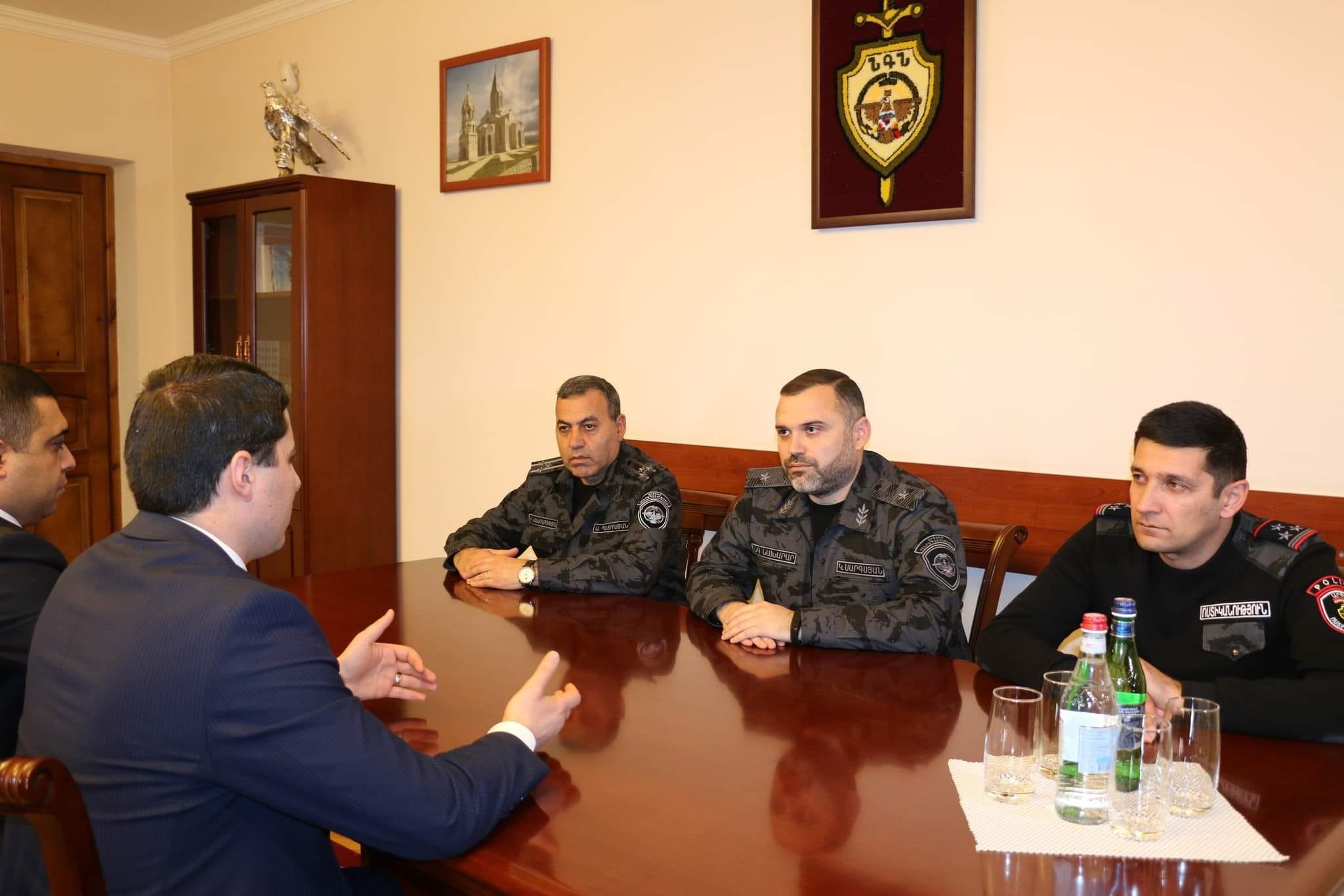 The Minister of Internal Affairs of Artsakh Karen Sargsyan received the Chairman of the Investigative Committee of Armenia Argishti Kyaramyan and the Head of the Investigation Department of the Yerevan Penitentiary of Armenia Mher Vardanyan.
According to the Artsakh Ministry of Internal Affairs, a number of issues related to the strengthening and expansion of cooperation between the two structures, the existing threats and the developments around the country were discussed during the meeting.
Karen Sargsyan greeted and thanked his Armenian counterparts for the effective cooperation, keeping the Artsakh issue on the agenda և, for a working visit to the Artsakh Republic.
"Mr. Kyaramyan, I am glad to see you in Artsakh. We met with you at a very crucial time for the country, when there was a war. Today Artsakh is in the stage of reconstruction and reconstruction. On behalf of you, on behalf of the staff of the Ministry of Internal Affairs, I express my gratitude to all the people who are sympathetic to the problems of Artsakh and our compatriots, "said Karen Sargsyan.
Argishti Kyaramyan, in his turn, thanked Karen Sargsyan, the employees of all subdivisions of the ministry, for their selfless service to the homeland during the war, in the difficult post-war period, noting that the Investigative Committee of Armenia is ready to cooperate with the Ministry of Internal Affairs.
"Dear Karen Grigory, the mission that the structure you lead has undertaken is invaluable. You have dedicated the difficult task of organizing the search for the bodies of dead, missing servicemen, civilians and delivering them to your relatives.
The war left a heavy wound in the hearts of all of us. Today we have nothing left but to improve our homeland. I walked in Stepanakert today, inspired by the flourishing city and the unbreakable kind of people. I am confident that together we will be able to achieve all our national goals, "said Argishti Kyaramyan, President of the Armenian Penitentiary.
The meeting was attended by Deputy Interior Minister Samvel Petrosyan and Artsakh Police Chief Colonel Artyom Harutyunyan.
If you find a mistake, you can send it to us by selecting the mistake by pressing CTRL + Enter