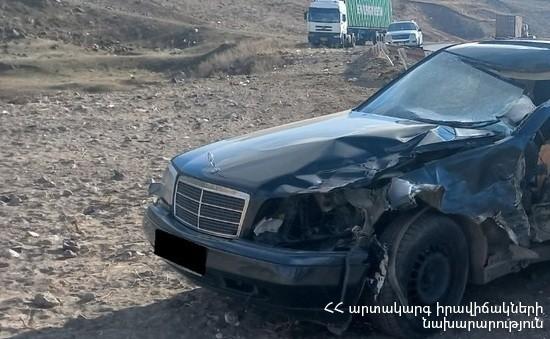 On December 19, at 10:13 am, the Syunik Regional Crisis Management Center received an alarm that an "accident" had taken place near the market of Angeghakot village. There is a victim.
According to the Ministry of Emergency Situations, a fire brigade from the fire-rescue detachment of the regional rescue department of the Emergency Situations Ministry left for the scene.
It turned out that on the 10th km of the Sisian-Yerevan highway, a "Mercedes" car (driver: GHH, born in 1990) and an "Iveco" truck (driver – an Iranian citizen) collided, as a result of which " The "Mercedes" car, rolling about 50 m, appeared on the right side of the road. The driver of the latter died on the spot, and the driver S. ZZ (born in 1998) was hospitalized by local forces in Sisian Medical Center, where doctors assessed the health condition of the victim as satisfactory.
The rescuers cut off the power to the car, closed the valve of the gas cylinder և C ․ He brought HA's body to the ambulance.
If you find a mistake, you can send it to us by selecting the mistake by pressing CTRL + Enter