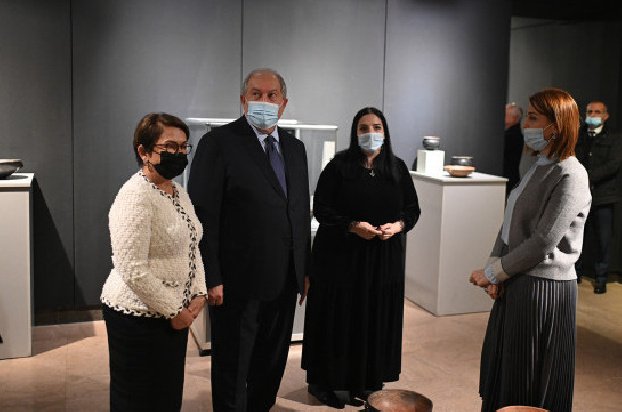 December 18, 2021, 11:00 – News – Armenian President Armen Sarkissian and his wife Nune Sargsyan visited the Museum of Folk Art named after Hovhannes Sharambeyan, reported the press service of the President of the Republic.
President Armen Sarkissian and Nune Sargsyan toured the halls of the permanent exposition and temporary exhibitions, got acquainted with the exhibits representing the artistic processing of wood, metal, stone, embroidery, carpet weaving, ceramics.
President Sarkissian stressed the important role of the museum in preserving tangible and intangible heritage, ensuring the continuity of craft traditions and popularizing various types of folk art. At the same time, he stressed that much should be done, especially in the international arena, to popularize the Armenian cultural heritage, noting that in this matter, continuous state assistance is of great importance.
The director of the museum Lusine Toroyan presented the ongoing educational projects to President Armen Sargsyan and Mrs. Nune Sargsyan, within the framework of which children from orphanages, residents of nursing homes and wounded soldiers learn various types of crafts. President Sarkissian proposed organizing an exhibition of the best works of participants in educational programs at the presidential residence.

.