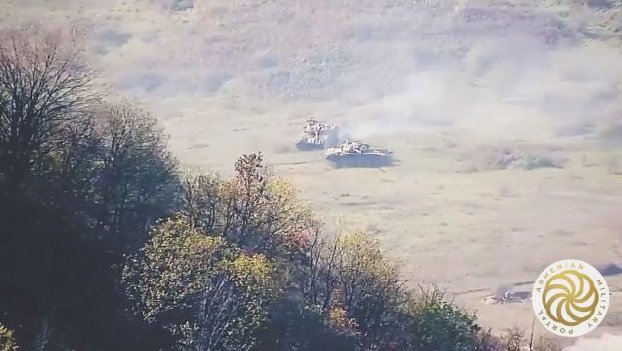 December 18, 2021, 12:00 – News – Two T-72AV tanks of the Azerbaijani Armed Forces could not cope with two Armenian servicemen in direct confrontation. The corresponding video, filmed during the war in Karabakh in the fall of 2020, is published by the Military Informant Telegram channel.
The footage shows how two military vehicles are trying to destroy a trench in which two servicemen of the Armenian army are hiding. However, they fail to do this.
The soldiers, in turn, opened fire with a hand-held anti-tank grenade launcher (RPG) and were able to force the T-72AV to retreat. After that, they got out of the trench and threw anti-tank hand grenades at the departing combat vehicles – presumably, RKG-3 were involved.
When exactly the video was filmed is not specified. The outcome of the battle is also not reported.
About the war in Artsakh
From September 27 to November 9, 2020, the Azerbaijani Armed Forces, with the participation of Turkey and foreign mercenaries and terrorists recruited by it, carried out aggression against Artsakh at the front and in the rear using rocket and artillery weapons, heavy armored vehicles, military aircraft and prohibited types of weapons (cluster bombs, phosphorus weapon). The strikes were delivered, inter alia, at civilian and military targets on the territory of Armenia.
On November 9, 2020, the leaders of the Russian Federation, Azerbaijan and Armenia signed a statement on the cessation of all hostilities in Artsakh, according to which, in particular, the city of Shushi, Agdam, Karvachar and Lachin regions passed to Azerbaijan, with the exception of a 5-kilometer corridor connecting Karabakh with Armenia. A Russian peacekeeping contingent is deployed along the contact line in Karabakh and along the Lachin corridor. On January 11, 2021, the Presidents of Russia and Azerbaijan Vladimir Putin and Ilham Aliyev and the Prime Minister of Armenia Nikol Pashinyan signed a joint statement aimed at developing the region and unblocking communications.
According to the latest data of the Armenian side, published by the RA Investigative Committee, 3788 people were killed in the 44-day war in Artsakh, 231 servicemen and 22 civilians were missing; 114 servicemen and civilians were returned from Azerbaijani captivity.

.