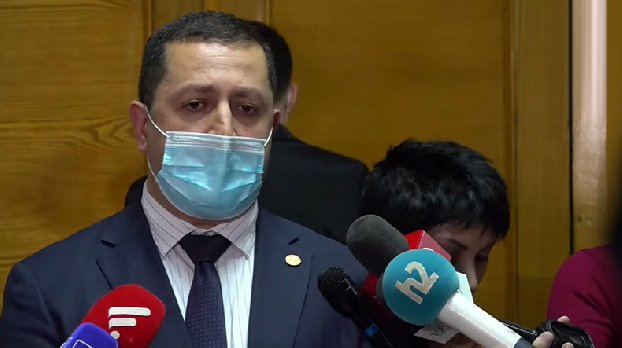 December 17, 2021, 17:40 – News – The Board of Trustees of Yerevan State University (YSU), following a vote of 19 votes in favor and 5 against, for a period of 5 years, elected Hovhannes Hovhannisyan, a former deputy of the National Assembly of Armenia from the "Civil Contract" party of power, as the rector of the university. For several months he was Acting Rector of YSU.
Let us remind you that the "Yerevan State University" foundation has announced a competition to fill the vacant position of YSU Rector-Governor. 2 applications were submitted: theologian Hovhannes Hovhannisyan and Doctor of Historical and Philological Sciences, Professor Artsruni Sahakyan. The latter submitted the documents late.
In an interview with reporters, Hovhannes Hovhannisyan stated that during 4 months of his work he proved that his stay at the university increased the reputation and prestige of YSU.
Meanwhile, in parallel with the election of YSU rector, outside the walls of the university, students organized an action against the politicization of the educational institution. They gathered at the central building of YSU, holding posters with the words: "No politicization of YSU", "Hands off YSU", "Stop politicizing universities", "YSU is not the office of the Civil Agreement".
"The purpose of our action is not a protest against a specific person. We have nothing against a specific person, we are against the system, since the authorities have adapted all independent state institutions for themselves, turning them into their henchmen. The same scenario is repeated at YSU. We cannot but fight this, not voice our voice of protest, "said one of the protesters Taron Manukyan.
He drew attention to the fact that the current government has done everything to bring the composition of the Board of Trustees of YSU in line with their preferences, and the university has only one candidate for the post of rector.
"Regardless of the political views, positions of this person, these elections cannot be considered legal and legitimate. In addition, the University Board of Trustees today is headed by a person whom we consider a symbol of defeat, one of the representatives of the treacherous government – Suren Papikyan, "he said.
Earlier it became known that Deputy Prime Minister Suren Papikyan was elected head of the Board of Trustees of YSU, and Armenia's representative at the European Court of Human Rights Yeghishe Kirakosyan was elected secretary.
Let us remind you that there has been no rector at YSU for two years already.

.