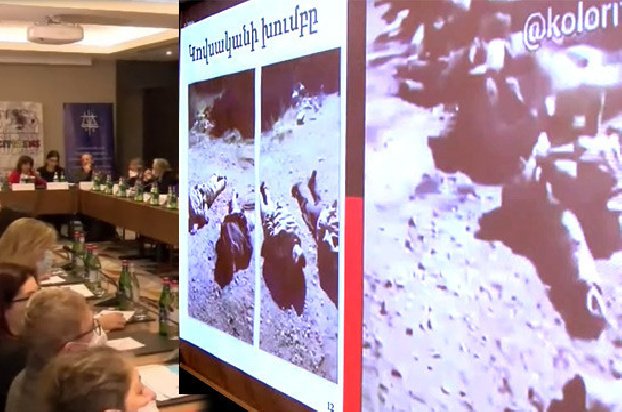 18 December 2021, 09:00 – News – The civilians killed by Azerbaijan were mainly elderly people, among them there are also women, Anna Melikyan, a representative of the "Protection of Rights Without Borders" NGO, said during the discussion today.
She noted that many of them had disabilities and mental health problems.
"There are traces of torture and ill-treatment on the bodies, in some cases they were known during the war. In general, the fact that the Azerbaijani Armed Forces filmed and disseminated it allows us to conclude that this practice is aimed at intimidating the civilian population, "she said.
According to Anna Melikyan, six cases of beheadings of Armenians have been confirmed.
"The cases are not limited to this, we just have detailed data on six cases, including women in old age, who did not have any opportunity to resist," said an NGO spokeswoman.
She also noted that in mid-October, a 44-year-old resident of Hadrut, who stayed at home with his father, ended up in the hands of the Azerbaijani military. On January 6 and 8, Azerbaijanis distributed video materials on the network, on one of them they offer a resident of Hadrut to say goodbye to life. According to experts, he was killed on January 14 or 15.
Anna Melikyan also said that they have data on eight cases of unlawful killing of servicemen who laid down their arms. The servicemen could not resist, since they were seriously wounded, they were shot with their hands tied.

.