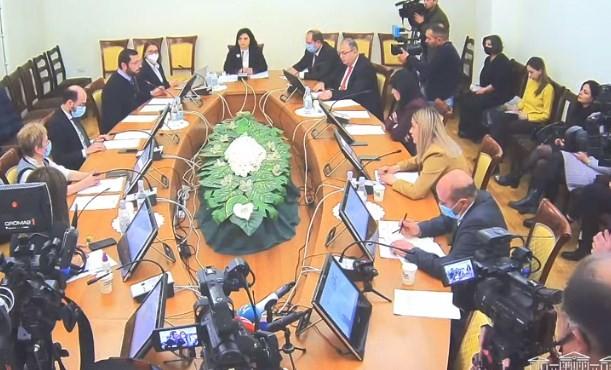 The "Civil Contract" faction has nominated Deputy Minister of Justice Kristine Grigoryan for the post of Human Rights Defender. The issue was discussed today at the special sitting of the Standing Committee on Human Rights Protection and Public Affairs.
It should be reminded that the Human Rights Defender Arman Tatoyan was elected to that position on February 23, 2016. According to the legislation, the Human Rights Defender has been in office for 7 years.
Aregnaz Manukyan, a member of the "Hayastan" faction, reminded that according to the Constitution, among other requirements, a candidate must be a person of high prestige in the society. He inquired why the government stopped at that particular candidate.
Vladimir Vardanyan, representing Grigoryan's candidacy, responded that the parliament would assess those criteria through its election. He added that the candidate was quite active in the field of human rights.
"Mrs. Grigoryan is endowed with the qualities that are necessary and sufficient for her candidacy to be nominated for this position," he said.
Manukyan offered to take to the streets and ask passers-by how many people knew Grigoryan. Vladimir Vardanyan countered that many people may not recognize the deputies, but that does not mean that the latter do not enjoy the authority of the society.
According to Aregnaz Manukyan, the current ombudsman Arman Tatoyan is dissatisfied with the subject, Azerbaijan և CP, he inquired why this is so.
Vladimir Vardanyan assured that none of the authorities had evaluated Arman Tatoyan's activity, he added that Arman Tatoyan was the first ombudsman to hold office until the end of his term.
"We are electing a new ombudsman according to the normal procedure. As for your hint at why you did not nominate Arman Tatoyan, I have just returned from the sitting of the Venice Commission. "A clear criterion was presented there that the institution of re-election should be ruled out in terms of strengthening the ombudsman's independence," Vardanyan said.
In her speech, Kristine Grigoryan assured that if elected, she will be impartial, although she currently holds a political position.
If you find a mistake, you can send it to us by selecting the mistake by pressing CTRL + Enter