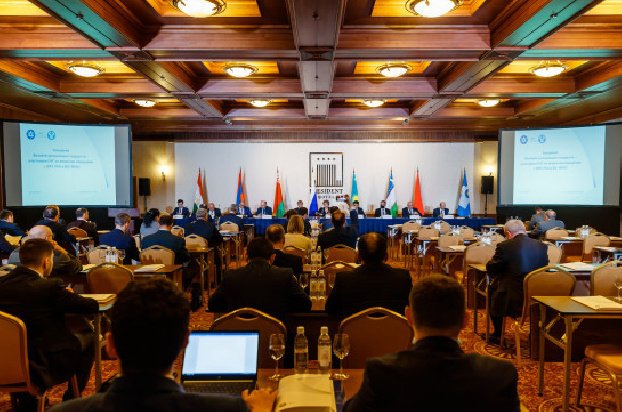 December 15, 2021, 16:40 – News – On December 13-14, 2021, a meeting of the Advisory Body of the Base Organization of the CIS Member States on the management of spent nuclear fuel, radioactive waste and decommissioning of nuclear and radiation hazardous facilities was held in Moscow. The event was organized by TVEL Fuel Company of Rosatom, which is the base organization of the Commonwealth countries for the elimination of nuclear legacy, in close cooperation with organizations of the Russian nuclear industry.
Representatives of relevant departments, organizations and enterprises of Armenia, Belarus, Kazakhstan, Kyrgyzstan, Russia, Tajikistan, Uzbekistan, as well as representatives of international organizations took part in the meeting chaired by the President of TVEL JSC Natalia Nikipelova. The expanded composition of the event participants testifies to the increasing importance of issues related to the final stage of the life cycle of nuclear facilities.
The meeting participants discussed the current state of infrastructure facilities for handling nuclear materials in each of the participating countries, ongoing projects for the decommissioning of nuclear facilities and land reclamation, as well as planned measures to improve and harmonize the regulatory framework. Specialists of TVEL Fuel Company and other Rosatom organizations presented promising technologies and new technical solutions in the field of the nuclear backend, professional training and retraining programs for specialized specialists, as well as a draft of a unified concept for radioactive waste management and elimination of nuclear legacy in the CIS countries.
"We see a huge potential for the development of international cooperation in the field of the final stage of the life cycle, non-energy applications of nuclear technologies, as well as improving the safety of handling nuclear materials and radioactive substances. These directions give a good synergistic effect in the implementation of projects aimed at achieving the Sustainable Development Goals, both from an environmental and economic point of view. As a rule, these are technically complex projects, we are ready to share the significant experience that has been gained in the Russian nuclear industry in the 21st century. These are more than 50 large projects for a total amount of more than 15 billion rubles. In addition, our enterprises have successfully implemented and continue to carry out many similar projects abroad, including in Western Europe. The formation of strategic international partnerships, which we are actively engaged in, will also make it possible to increase the efficiency of such projects, "noted Natalya Nikipelova.
Following the meeting, an action plan for the Base Organization for 2022 was approved, proposals on priority areas of cooperation were agreed. In addition, as part of a technical tour to the production site of FSUE RADON in Sergiev Posad, Russian technologies for radioactive waste management were demonstrated, as well as the achievements of FSUE RADON, the Federal Environmental Operator of ROSATOM State Corporation and the National Operator for Radioactive Waste Management.

.