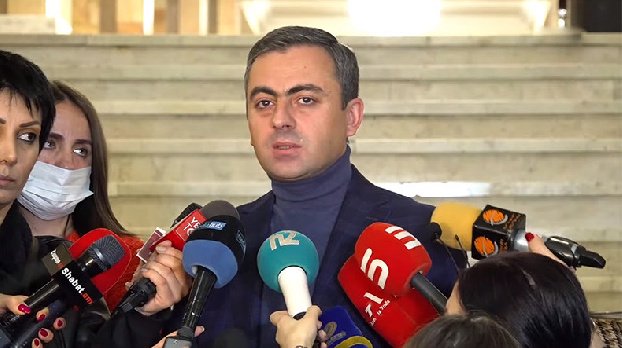 December 16, 2021, 09:00 – News – "After the elections to local self-government bodies, a shameful process and lawlessness are taking place," NA Vice-Speaker Ishkhan Saghatelyan said in an interview with journalists at the National Assembly.
According to him, in all communities where the opposition, non-government forces signed a memorandum announcing the formation of local authorities, in fact, the authorities attacked members of these blocs, their families.
"This is the face and handwriting of the authorities speaking about democracy. Numerous international organizations, human rights defenders and pro-democracy activists are silently following the chain of these lawlessness, "he said.
Saghatelyan stressed that it is obvious that they are trying to establish a dictatorship in Armenia, they are clearly moving in this direction.
"It surpassed all the vicious phenomena combined that took place in Armenia over the past 30 years," he said.
Ishkhan Saghatelyan mentioned that the deputies and governors from the ruling party – "Civil Contract" – declare: "It doesn't matter that the opposition forces signed the memorandum, all the same, we will be in power."
"This is a statement about a crime, and the prosecutor's office must deal with the statements of these people.
They are trying to harass, intimidate, arrange detentions and beatings of people, using criminal circles, the police, various law enforcement agencies, street morals – the methods with which, they said, they came to fight.
These people are ready for any meanness – for the sake of retaining power, strengthening their power, "said the NA Vice Speaker from the opposition.
He noted that one thing surprises him: "How did Nicol convince them? It seems to me that he convinced his teammates that they are in power forever, and he himself probably believed it. They will certainly bear responsibility for the iniquities they commit. For example, Mayor Byrd was summoned and told to resign. When he refused, he was arrested. Do you know why? For illegal construction, erection of a retaining wall.
How are the same prosecutors, investigators, and their deputies planning to step over all this?
The crimes they have committed will not be forgiven. "

.