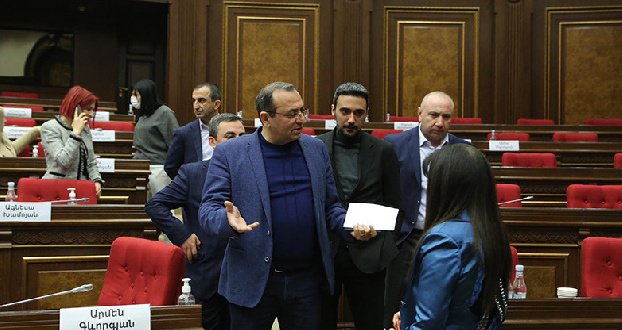 December 15, 2021, 18:00 – News – In accordance with Article 100 of the Constitution of the Republic of Armenia and Article 41 of the RA Constitutional Law "Rules of Procedure of the National Assembly", an extraordinary sitting of the parliament was convened today at 12:00 on the initiative of the NA deputies.
On the agenda was a project on the problems of delimitation and demarcation, the author of which is the "Armenia" faction.
However, the parliamentary faction "Civil Contract" boycotted the extraordinary sitting of the National Assembly, initiated by the opposition. The sitting of the National Assembly was scheduled for 12:00, however, it was not possible to secure a quorum due to the absence of deputies from the ruling force.
Thirty deputies have registered, however, 54 registrations are required to ensure a quorum.

.