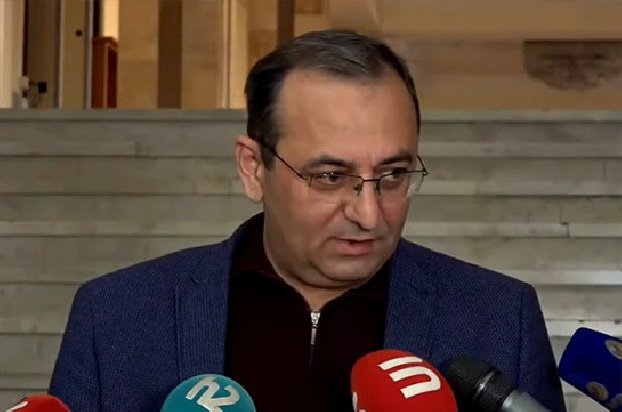 December 14, 2021, 17:00 – News – History has shown that when people ignore the desire and aspirations of the people, it leads to the death of the nation, Artsvik Minasyan, secretary of the "Armenia" faction told journalists today.
"It is obvious that Turkey and Azerbaijan are trying to pull everything possible from the weakened Armenia, the authorities serving their interests. This dangerous tendency leads to the final collapse of our statehood, "said the deputy.
According to Minasyan, the Armenian authorities either do not understand, or they deliberately act in such a way that Armenia constantly finds itself under Turkish-Azerbaijani domination.
Referring to the fact that Armenia is ready for the process of normalizing relations with Turkey without preconditions and will appoint a special representative for the dialogue, Artsvik Minasyan said that this process does not serve the national goals of Armenia.
When asked whether ARF Dashnaktsutyun opposes the establishment of good-neighborly relations between Armenia and Turkey, Artsvik Minasyan replied: "If we are talking about establishing relations without preconditions, then we have repeatedly said yes. But when they talk about good neighborliness, then with whom, with the state that wants to destroy you? What kind of good-neighborly relations can we talk about? "
According to the deputy, the current authorities are afraid to go to Artsakh, afraid to talk about Artsakh.
"They are afraid to say that the Azerbaijani authorities have committed an encroachment on the sovereignty of Artsakh," he said.
"Do you consider it normal to throw yourself into the arms, at the feet of states that want to destroy us?" – Artsvik Minasyan noted.
He stated that they will continue the struggle, but how much it succeeds depends on each Armenian, if they consolidate for a nationwide struggle, the result will be quick.
"We continue to be guided by the Turkish-Azerbaijani agenda and in today's weak situation we are not even able to build such relations with our strategic partner so that our national interests are not infringed. We do not yet have an appropriate security system, a stable base of internal resistance – in the form of a reformed army, and the absence of an internal split. Thanks to this power, today we have no unity, "Minasyan said.

.