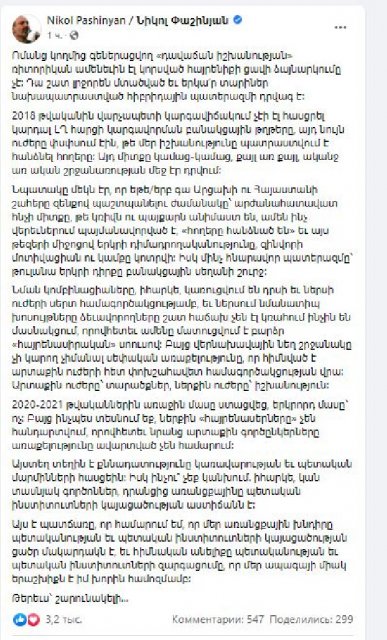 12 December 2021, 09:30 – News – While servicemen are dying on the Armenian border, and even a day goes by without hostilities, this morning Nikol Pashinyan on his Facebook page decided to analyze the emergence of "treacherous power".
"The rhetoric of 'treacherous power' generated by some is not at all an expression of pain about the lost homeland. This is an episode of a hybrid war, carefully thought out and honed over the years, "- in particular, he wrote.
Users in the comments responded:
"You said that you are negotiating from your point of view, we were calm. If you didn't have time to read, how did you even make such a statement? So we should have had a stronger prime minister. Starting from your level, as well as through the mouth of the head of the Ministry of Justice and other officials, we hear only about personal persecution, we see abuse of office! We see only awards and Alena's car, when the country is full of refugees, fatherless children. We see only a people divided into dark and light and continuous accusations against others (former). "
"You have made and are committing all the mistakes that could be made. I crossed all possible boundaries. Are these former ones also to blame now? Yes, not that they are innocent, you just bypassed them with your wrong steps a long time ago. You put a stamp on their actions.
I, directly, cannot with you: everyone is guilty, except you. If anything, you should know that you are both responsible and guilty number one.
Even if you later pretend to be insane, you will not get away with your mistakes.
The only way out for you is to make Armenia a vertical and concrete democratic country, so that later you will be punished according to the law … "
"Everything is in your hands, but you continue to work with such people – from kindergarten directors, school principals to generals. Now what do you want to say? We have chosen you, but what have you done? School No. 163 cannot elect a director for the 6th time. This is the result of your cotton management. Excuse me, what salary do you pay to all illiterate deputies and what teacher? .. "
"Tales of Granny Gulnaz".
"Have you noticed that you don't know how to lead?
"What is better for you: resign or leave Armenia without Syunik? Or are your voters watching TV more important than people who put a stone on a stone?
As soon as you are asked a question about resignation, you somehow tremble a lot. Once you leave, only the tails will not be a pistol. "
"Are you so naive or stupid that, of course, you did not know about this combination? You are as much a scoundrel as they are. And all this will continue, perhaps, because there is no trust in anyone. And people are already actively leaving the country. Let the curses of the people reach the addressees. Apparently, the time of your exit from the game is approaching. Wondering which option will your customers choose? Staging an assassination attempt, suicide or a madhouse? "
"You won't last long with lies and manipulations. Traitors serving Russian-Turkish interests will face a fair trial of the Armenian people.
And you will be one of the first. "
"I would remain a journalist. Each person is responsible for his own actions. How do you sleep at night, when during your premiership three whole generations will never open their eyes. Have you ever blamed yourself? It's easy to blame everyone but yourself. "
"To justify is to be guilty."
"Off topic: is robbing your own people in this way a manifestation of patriotism?
Remove mandatory coronavirus testing or use leverage to bring prices down …
Do you monitor inflation? Low salaries and tests …
Is it moral to force a citizen to get vaccinated for lack of money? .. "
"Enough to feed people with words, all the same, everyone has already understood that it is ineffective management and a bunch of morons that are leading our country to collapse. Come to your senses before it's too late … you want to take the place of Herostratus in history … Betrayal is not forgiven under any circumstances, no matter how much you say … The only way out for you is to leave as soon as possible, in order to at least save and escape from the avengers … "
"Another post defaming the name of the soldier and the army. If the soldier did not have the motivation and resistance that you are talking about, we would not have had 5,000 victims, ara, we would not have resisted for 44 days. "
"Every day the military is killed, we are losing territory. What are you writing at all? "
"A soldier is killed almost every day by a colleague. Do something, it can't go on like this, I'm sorry for our children. "

.