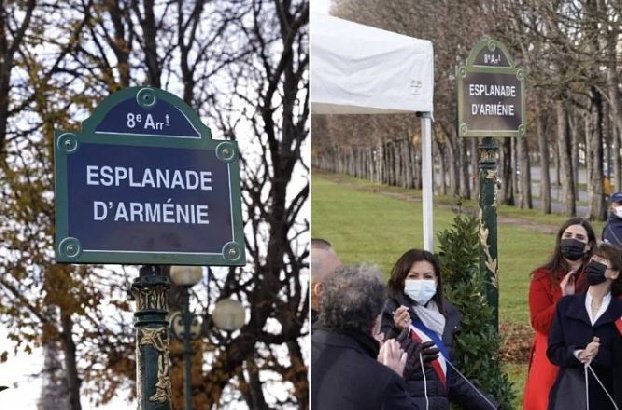 11 December 2021, 12:30 – News – The Esplanade of Armenia opened in Paris in the presence of the Mayor of the French capital Anne Hidalgo and the head of the Armenian Foreign Ministry Ararat Mirzoyan.
On the same site with the esplanade in the very center of the city, there is a monument to Komitas and the "Yerevan Garden".
In his speech at the opening ceremony, Mirzoyan highly appreciated this gesture on behalf of the friendly French people – as a tribute to Armenia and the Armenian people. "This event is more than symbolic. A year after the bloody and exhausting war in Artsakh, Paris expresses solidarity with the Armenians, opening another bright page of the Armenian-French friendship in the history of our relations," the RA MFA press service quoted Mirzoyan as saying.
The Minister noted that the connection between Armenia and the Armenian people with the French capital has a centuries-old history and is replete with many episodes of cooperation.
"We do not forget that Paris became one of the international centers where many Armenian immigrants and prominent cultural figures found refuge and got a chance for a new life. Here, in Paris, under the warm hospitality of Parisians, great Armenians of France – Charles Aznavour, Misak Manushyan, worked, Michel Legrand, Henri Troyat, Henri Vernoy Jansem, Garzu, Zabel Yesayan, Shavarsh and Arpik Misakyan and others, "Mirzoyan said.
He added that the most active period of warm cooperation with Paris is associated with the 30-year existence of independent Armenia.
"One of the most tangible achievements of this cooperation in recent years has been the opening in Paris of a branch of the Armenian Center for Creative Technologies Tumo at the initiative of the current mayor, Mrs. Hidalgo," the minister said.
In his speech, Mirzoyan wished peace and prosperity to the Armenian and French peoples, inviolable Armenian-French friendship.
The event was attended by deputies, senators, officials, representatives of the intelligentsia, the French-Armenian community.
.