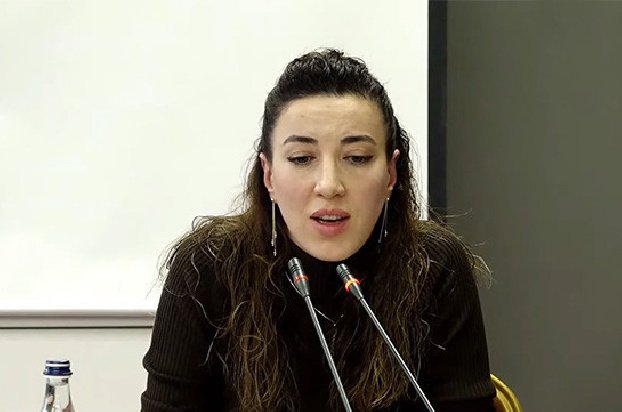 11 December 2021, 12:00 – News – The authorities create a problem of values ​​in society, send wrong signals to society, said today the defender of the interests of Armenian prisoners of war at the ECHR, human rights activist Siranush Sahakyan at a discussion on the fate and rights of prisoners of war.
She noted that the authorities, in order to increase their rating a few months ago, when the prisoners were returned thanks to the efforts of the Russian side, heroized them and met at the level of the prime minister, and after that, these days, they call all the prisoners "criminals."
"Now we see the other extreme, when without a comprehensive study of all the circumstances, all prisoners are considered criminals. I can declare with full responsibility that this is not true, numerous people were captured in circumstances that did not depend on their will, and if there was an opportunity, they would sacrifice their lives for the sake of their homeland, "said the human rights activist.
Siranush Sahakyan also condemned the fact that the testimonies of the servicemen who were captured in Khtsaberd were published by the lawyer.
"All of them were interrogated in the status of a witness, it was also important to discuss the question, was it possible to interrogate in such a psychological and physical condition people who are in Azerbaijani captivity and under constant threat of life?" – she said.
The human rights activist noted that they have specific questions to the state related to the circumstances of the capture of servicemen in Khtsaberd, in addition, they have data that give rise to specific conclusions.
"There are questions that we would like the state to answer. How did it happen that, according to the November 9 statement, the sides stop at their positions, while Khtsaberd and Khin Tager remained under the control of the Armenian side, a document was signed and an order given, after which they became Azerbaijani? The second question: if these servicemen were to continue solving a combat mission, and they were ordered to get down from their positions, then what units were supposed to replace them? If there were no units that were supposed to replace them, then who is responsible for this? I would also like to understand how it happened that the same commander, without a shot, as a result of a conversation with the Azerbaijanis, left the territory, and if the battles were to continue, then why did they not join the battle? This list can go on, we just advise that they do not brand these servicemen unnecessarily, "she said.
She noted that this problem is much deeper and more serious.
"In these cases, we do not see any sign of surrender. Moreover, we see the problem of surrendering the territory together with the prisoners, and it is these facts that should merit a serious investigation, "she said.

.