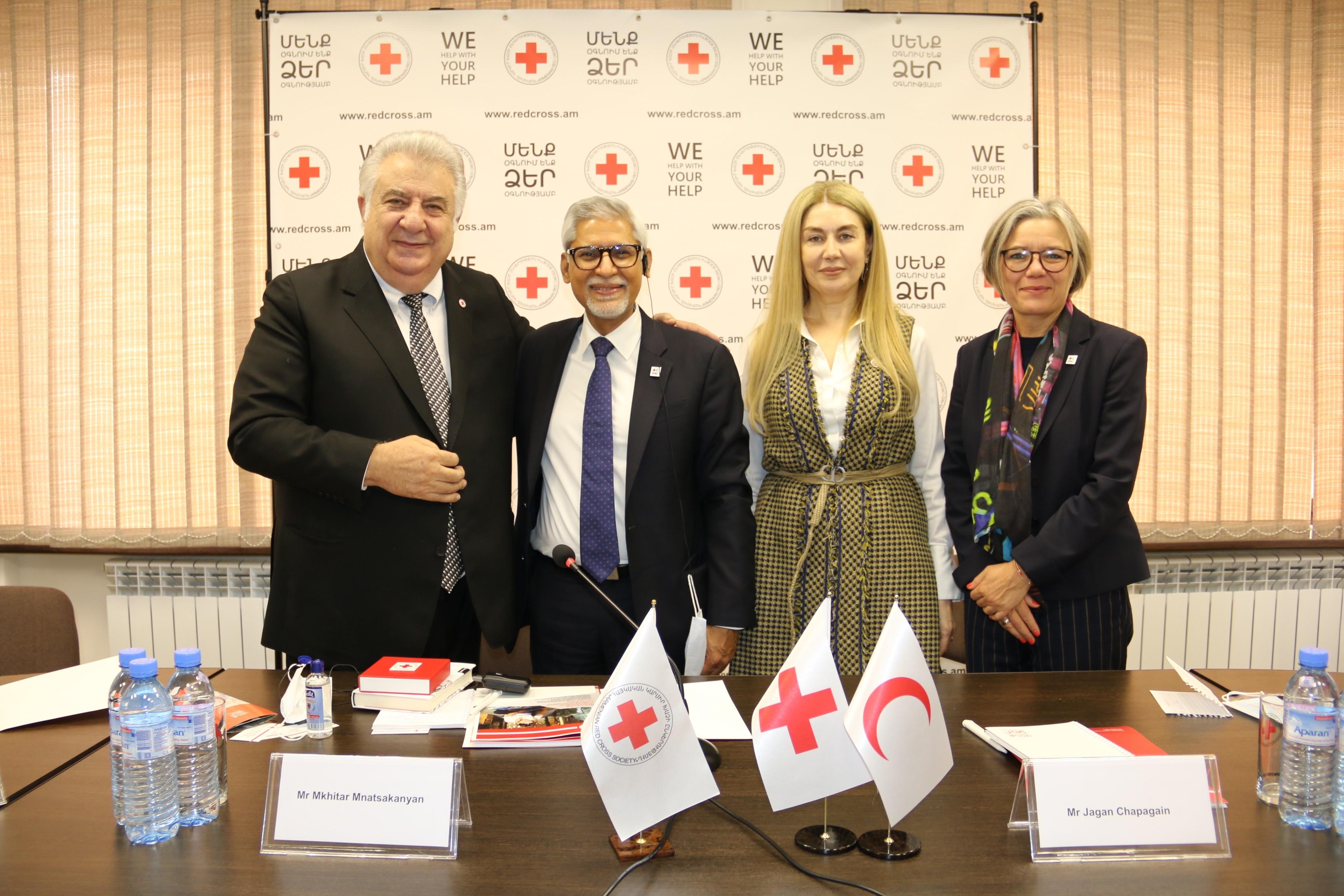 Secretary General of the International Committee of the Red Cross (ICRC) Jagan Chapagain arrived in Armenia on December 9-10 as part of a regional working visit. This was reported by the press service of the ICRC.
On December 9, the ICRC Secretary General visited the office of the Armenian Red Cross Society (ARCS) to discuss joint programs and further cooperation plans.
"I am glad to see on the spot how the Armenian Red Cross Society implements its humanitarian assistance, how we work together to achieve the ICRC Renewal Agenda. I am very proud of the volunteers of the Armenian Red Cross Society. "They have shown so much resilience in supporting vulnerable communities during crises," said Mr Chapagain.
The delegation headed by the Secretary General of the ICRC was greeted by the Paros Chamber Choir at the ARCS office. ARCS President Mkhitar Mnatsakanyan greeted the guests, presenting the commemorative medal dedicated to the 100th anniversary of the ARCS գիր the book "One Hundred Years of Humanity".
"Our cooperation has a history of more than 30 years, it started right after the devastating 1988 earthquake. "We are grateful for the cooperation and support of the International Federation over the years, thanks to which we have been able to implement various large-scale programs and support thousands of vulnerable people," said ARCS President Mkhitar Mnatsakanyan.
ICRC Secretary General և ARCS Secretary General Anna Yeghiazaryan had working discussions on the future programs of the Armenian Red Cross և ICRC Cooperation:. The ARCS Secretary General presented the main areas of activity, especially the challenges of the last two years and the efforts made to overcome them. The high-ranking guest highly assessed the quality and efficiency of the programs implemented by the National Company and expressed confidence that the cooperation would be continuous.
During the visit, the Secretary General of the ICRC together with the leadership of the Armenian Red Cross Society (ARCS) met with the Prime Minister of the Republic of Armenia Nikol Pashinyan and the Speaker of the National Assembly Alen Simonyan.
The head of the ICRC was present at the exhibition of ARCS volunteer activities in the lobby of the Great Hall of the Government, got acquainted with the volunteer programs and activities. The ARCS և ICRC Secretaries-General congratulated the volunteers on International Volunteer Day.
On December 10, Mr. Jagan Chapagain և ARCS Secretary General Anna Yeghiazaryan left for Shirak region, where they visited ARCS Shirak regional branch, ARCS Gyumri round-the-clock care center, participated in first aid և rescue rescue demonstration exercise, met with RA Shirak Governor Nazel
——————————————————————————————————-
The Armenian Red Cross Society is a full member of the International Committee of the Red Cross: Red Crescent, guided by the basic principles of the Movement: Humanity, Impartiality, Neutrality, Independence, Volunteering, Uniqueness և Universality.
As a government support body in the humanitarian field, ARCS has been operating throughout the country for 101 years in the following strategic areas: Disaster management, population movement, social health, first aid, search, dissemination of youth, humanitarian values, etc.
If you find a mistake, you can send it to us by selecting the mistake by pressing CTRL + Enter