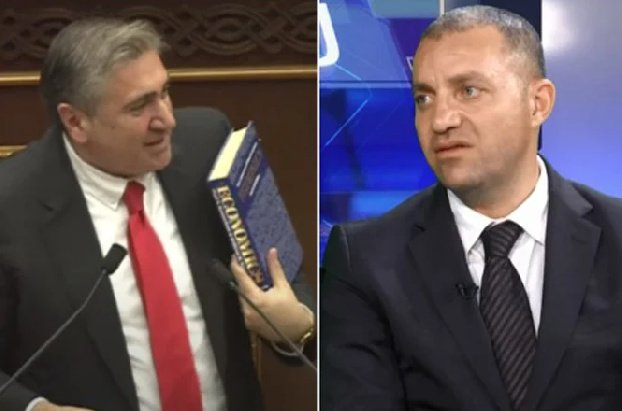 December 9, 2021, 08:00 – News – On Wednesday, the head of the Armenian Ministry of Economy Vahan Kerobyan was presented with the book "Economics" by the famous American scientist, Nobel Prize winner in economics Paul Samuelson.
During the meeting, the deputy from the "Armenia" opposition faction Artur Khachatrian recalled Kerobyan's words about the economic growth in the country. So, a few months ago, Kerobyan first predicted a double-digit GDP growth by the end of 2021 (promising to resign otherwise – ed.), And later clarified that he was talking about nominal economic growth.
"Nominal GDP growth is not economic growth. Nominal growth depends on inflation, the GDP deflator: the larger the deflator, the greater the nominal growth, that is, the higher prices in conditions of stable real economic growth, the better our situation will be. 1% of real economic growth – 10% deflator – 11% economic growth. If real economic growth is 1% and inflation is 20%, then there will be 21% of economic growth, "Khachatryan said.
After that, the deputy asked Finance Minister Tigran Khachatryan to give his colleague Kerobyan as a gift Samuelson's book (the famous textbook on economic theory, which has not lost its relevance for fifty years – ed.).
According to the preliminary data of the National Statistical Committee of the Republic of Armenia, the GDP of Armenia in the 3rd quarter of 2021 registered an increase of 2.7% compared to the same period in 2020.
Forecasts for the Armenian economy
In the state budget of Armenia for 2021, economic growth is foreseen at the rate of 3.2%, and inflation is laid down at the level of 4% (± 1.5%). In mid-September, the RA Central Bank improved its forecast for GDP growth to 5.4%.
The WB forecast for the growth rate of the Armenian economy for 2021 is 6.1%, the IMF – 6.5%, the EBRD – 5%, and the EDB expects that Armenia's GDP will grow by 4.5% in 2021.
Fitch Ratings predicts real GDP growth in Armenia will recover to 5.5% in 2021, while Standard & Poor's expects to reach 6.3% in 2021.

.