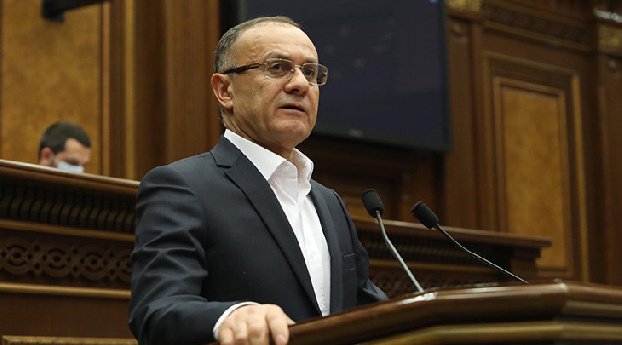 December 7, 2021, 15:20 – News – This sensitive issue of border delimitation with its subsequent demarcation should be discussed openly, and the authorities avoid talking about what is happening behind the backs of the people, the head of the "Armenia" faction Seyran Ohanyan said in the National Assembly today, presenting the draft statement "On the problems of delimitation and demarcation."
According to him, the society learns about the agreements reached only after the fait accompli.
"The Turkish-Azerbaijani aggression and occupation of the territories of Artsakh, the invasion of the Azerbaijani armed forces into the sovereign territories of Armenia, in fact, the unilateral process of delimitation and demarcation is a serious threat to the loss of Armenia's sovereignty and the right of Artsakh to self-determination on its own historical territory on the basis of international law," he said , adding: the authorities today do not touch upon such important and sensitive issues and did everything possible to keep the discussions on this topic closed.
"With our statement, we demand to assess the Turkish-Azerbaijani aggression, demand that all agreements be fulfilled in accordance with the current legislation of the Republic of Armenia, not to take steps in the issue of delimitation and demarcation that will harm Artsakh," Seyran Ohanyan said.
"We also demand that in order to strengthen national and international security guarantees, the state quickly restore the army, strengthen the borders, clarify, improve relations with strategic partners," he stressed.
"The statement concerns our interests," stressed the head of the "Armenia" faction.
Member of the head committee – NA Standing Committee on Foreign Relations, co-rapporteur Maria Karapetyan indicated that the committee discussed the draft statement "On the problems of delimitation and demarcation" proposed by the "Armenia" faction and gave a negative opinion.
She noted that the presented draft is a statement of the opposition faction, of course, the ruling faction does not share the opposition's position.
"The statement is an attempt to express mistrust in the Armenian government at the talks, in particular, in the context of the readiness to defend the interests of the state and people in the issue of delimitation and demarcation," said the MP from the Civil Contract faction of the ruling party.
"Armenia has a sovereign territory, and it must be protected, including as a result of the process of delimitation and demarcation, and the settlement of the Nagorno-Karabakh conflict is taking place in the format of the OSCE Minsk Group co-chairmanship. To postpone the issues discussed in the OSCE MG format and link them with the delimitation and demarcation agenda does not follow from the interests of Armenia and Artsakh, "Karapetyan said.
Pashinyan's party blocked the draft statement prepared by the opposition with a vote ratio of 28 for, 0 against, 1 abstained.

.